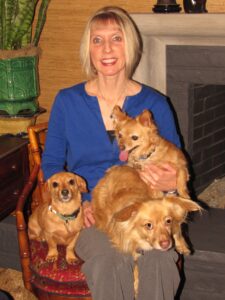 Chandra Laird
I grew up in Salem, OR then attended college at Oregon State University where I received a bachelor's of science degree in Psychology. After college graduation I moved to Philadelphia, PA.
It was in Philadelphia where my healthcare career began as I found my first post-graduation employment doing mental health care coordination. My employment background over the past twenty years includes being a clinical care coordinator assisting to connect individuals to outpatient treatment after inpatient psychiatric hospitalizations, working in a crisis center doing assessments on individuals needing various mental health treatments, doing street outreach in an attempt to reconnect clients to medical and mental health treatment, working for a health insurance company assisting Medicare members with benefit and coverage questions as well as working with seniors in an assisted living community to ensure their day to day needs were met.
I have lived in Beaverton, OR for the past fifteen years. The Great Northwest is a beautiful place to live and I look forward to assisting other families' loved ones with an animal visitation service that can add additional meaning and value to an individual's life.
---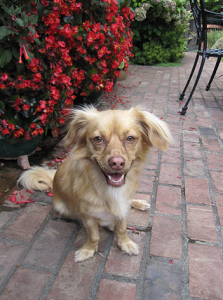 SoBrina
SoBrina came to live with me in January of 2012 and has completed many months of dog training; including receiving her Canine Good Citizen Certificate from the Kennel Club of America. She has also successfully completed testing and has been registered as a therapy dog since September 2014.
SoBrina is said to be a long haired Chihuahua/ Dachshund mix and was born around March of 2011. She can be very playful when at home with her siblings Pretzel and Bella. Pretzel and Bella are about 7 years younger than SoBrina; however, this does not stop her from getting in on the action when the other two decide it is time to play, which is what keeps her youthful. SoBrina is also a very loving "furry child" who can be found sitting in someone's lap or just snuggling in general.
SoBrina came from a shelter outside of Los Angeles where she was picked up after being found wandering the streets. It was through a friend I was introduced to a fostering group in Portland who helped rescue dogs from shelters with extremely high kill rates in California. The group had a contact in the Los Angeles area who went into local shelters to determine which dogs were best suited for adoption. This was done by completing behavioral testing on the animal. Once a dog passed the screening process they were pulled from the shelter and boarded until they could be driven up to Oregon, where they were then taken to their temporary foster placement. The dogs were then groomed, taken to a veterinarian and continued to be fostered until an adoption was arranged. I am very grateful to the Portland fostering group, as SoBrina has been a fantastic addition to our family ever since she came to live with us.
---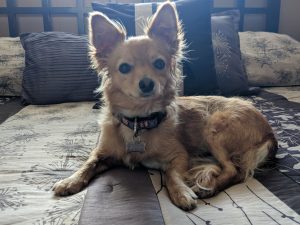 Pretzel
Pretzel came to live with me August of 2019. She, like SoBrina, has completed many months of dog training and has received her Canine Good Citizen Certificate from the Kennel Club of America. She successfully completed testing and has been registered as a therapy dog since August of 2021.
Pretzel is said to be a long haired Chihuahua/ perhaps Fox Terrier mix. She was born around May of 2018 and has a feisty spunky zest about her. When she is at home she loves to run and be chased by her siblings. When she is in senior communities, she loves to watch what is going on in the environment around her, while she lays on someone's lap receiving pets. Pretzel has a distinctively cute overbite and occasionally can be seen with her tongue sticking out, as it sometimes just slips out of her mouth.
Pretzel came from a shelter in Delano, California where she was picked up after being seen roaming the streets. A Gig Harbor, WA dog rescue group was responsible for pulling her from the shelter then fostered her for three months, until she was ready to be adopted. I then found Pretzel on a pet adoption site where I noticed she had some characteristics similar to SoBrina in appearance. Her profile said she was a loving little dog who enjoyed being around people. It was great that Pretzel had been with her foster family as long as she had, as they were then able to tell me more about her temperament, likes and dislikes before coming to live in my home.
People often ask where I came up with the name Pretzel. She actually came to me with that name. I too asked the dog rescue group where the name came from. Was it because the color of her fur resembled a pretzel, was it because when she rolls up on your lap to lay down she looks like a pretzel or was there some other reason? The dog rescue group volunteer told me those were not the reasons continuing, "When you adopt out 900 dogs you run out of names, so we just came up with Pretzel!" I find her name to be quirky, just like she is, so I kept it. Pretzel is quite the character and constantly makes those around her laugh no matter what she is doing.
---
Bella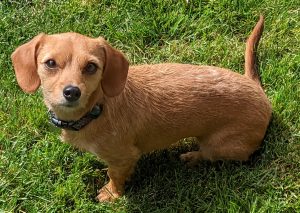 Bella came to live with me March of 2020. I was not looking to add any more fur children to my dog pack, especially only seven months after Pretzel had been adopted; however, when the opportunity presented itself, I decided it seemed like she would be another great fit to my animal family. Bella went through the same dog training both SoBrina and Pretzel completed and has received her Canine Good Citizen Certificate from the Kennel Club of America. She should be ready to test, becoming a registered therapy dog herself, in the near future.
Bella is a wire haired Dachshund/ perhaps Terrier mix. She was born in May of 2018 and has a very sweet and loving disposition. She adores having Pretzel and SoBrina to engage and frolic with and very quickly acclimated to life in Oregon. Bella and Pretzel are about the same size in regards to weight, have a similar color and are the same age. Bella, just like Pretzel, loves to run around and is happiest when she is chasing her siblings, playing tug-o-war with a sister or two on the other side of a toy or is wrestling with Pretzel and SoBrina. Because they have so many similarities, I have taken to calling Pretzel and Bella "The Twins," fraternal of course.
Bella was found by my father in a small country Kansas town out on her own. Concerned that she might be lost he scooped her up and started looking for a possible owner. Knocking on doors, posting signs in the town she was found, speaking to the local sheriff, visiting the animal shelter in the area and going to a few vet's offices to see if they recognized her did not turn up an owner. After doing as much research as was possible, which included a couple of past owner leads, it seemed likely that Bella was dumped on the streets. Bella remained with my parents for a couple months as they tried to sort out where she belonged. It was during this time they quickly learned what a charming little dog they had staying with them. Hearing stories about her temperament and knowing she needed to find a place to live I decided to bring her into my own family. It was through a mere coincidental crossing of paths with my father Bella now has her forever home and she could not be happier.